Shihan Fuentes Rivera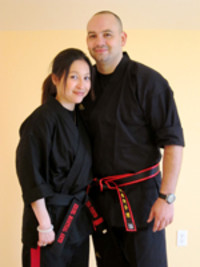 Mrs. Fuentes-Rivera began her martial arts career at the age of 11.
After receiving her black belt, Mrs. Fuentes-Rivera competed in both forms and fighting becoming a top competitor in Junior and Adult divisions. At the age of 15 she enrolled in the Instructor Training Program and two years later was managing the Manhattan branch of Fontanez Karate Schools.
Mrs. Fuentes-Rivera has been featured in martial arts commercials starring Chuck Norris and other top competitors. In 1994, she hosted a cable network karate show. She has been teaching martial arts for over 20 years and has been promoted up the ranks in Kaizen Martial Arts to Shihan. In 1996 she helped build Excel Martial Arts into one of New YorkÆs finest karate schools. Mrs. Fuentes-Rivera is an exemplary role model and demonstrates a great love for working with children. Mrs. Fuentes-Rivera runs 3 dojos and an Afterschool Program of 100 students. Shihan China & Shihan Rivera are also the owners of Excel Yoga where many parents have made positive remarkable changes in both their mental and physical growth.
Shihan China is also involved in many fundraisers in local schools to help promote Anti Bullying and Stranger Danger awareness.